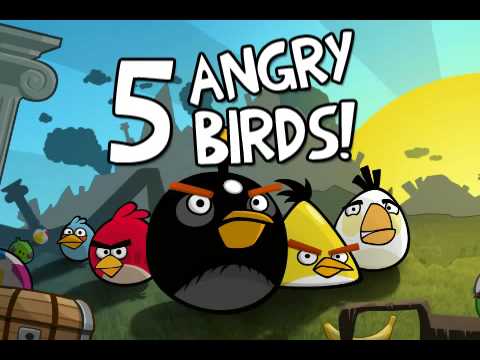 We've been squawking about how brilliant Angry Birds is for ages now, and guess what? Thanks to an awesome update, it just got bigger and better.

An entire episode has been added to the game, comprising of two brand spanking new environments, 42 extra levels of smashing, physics-based fun and a bunch of online features (achievements, score-boards etc) courtesy of Chillingo's increasingly popular Crystal network.
In celebration of Angry Birds' relaunch (sic), the price has been dropped to a mere 99cents. So if you're one of the few left to grab the game, then hurl yourself over to the Appstore and hit the buy it now button birdbrain!
Best iPhone apps at AppStoreHQ


Graves Robber
is another game that's gotten some update love. So what's new? Well for starters Sarah – the titular grave(s) robber – has been given a speed boost, meaning movement is now a hell of lot quicker and more fluid. Also reloading has been fixed, so it's now possible to unload clips into zombies without having to freeze time every two seconds.
A few more minor changes include a expanded tutorial, in-game instructions and some snazzy new effects if you're playing on a 3GS. Overall this update makes Graves Robber a damn sight more playable, elevating the game from good to bloody good!
Best iPhone apps at AppStoreHQ
The much maligned
Dead Strike
has received a huge update and a new, rather unwieldy, sub-title.
Dead Strike (Ragdoll Zombies Bullet Time Shooter Edition)
, as you may have gathered, throws some
Max Payne/The Matrix
stylee slo-mo shooting into the mix that causes the zombies to be thrown around like, er, ragdolls as you pump 'em full of holes.
It's a pretty fun feature, but more importantly the crappy controls have also been given some attention. A FPS set-up now guides your chosen survivor through the misty streets, which works so much better than the previous system. You've also got a compass, can play your own tunes as you slaughter the undead and a few spelling errors on the scenery have been fixed. Great stuff!
Best iPhone apps at AppStoreHQ