Gameloft cannily hijack Rockstar's Grand Theft Auto franchise, and do a commendable job of shrinking the crime-spree in a sandbox shenanigans down to pocket-size. This ambitious title features an impressive 3d city to explore, plenty of cars to be stolen, and puts a vast arsenal of weaponry at your fingertips.
Playing as P.Thug, true to your name, missions include: drug dealing, taking part in turf wars and prison breaks, delivering "models" to their destinations, whacking corrupt politicians, illegal street racing, and more. Gangstar's graphics are stunning, and coupled with the flawless control system, means that the title feels highly polished.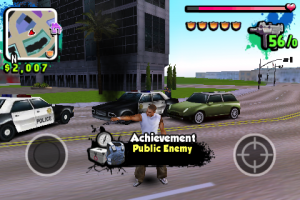 That said, stray away from the central storyline and things get a tad claustrophobic, the environment is mostly non-interacive, thus there's little scope for exploration or inventive mischief, while there's only a handful of, largely uninteresting, side-missions to be done. Also high octane cop-chases, usually a key aspect of this type of game, here are strangely unexciting and can simply be skipped by bribing the law.
Overall Gangstar is a decent attempt at bringing fully featured sandbox action to iPhone, and a blast while it lasts, but lacks the inherent replayability and a certain je ne sais quoi of the GTA series.
iFanzine Verdict: 8.5 out of 10