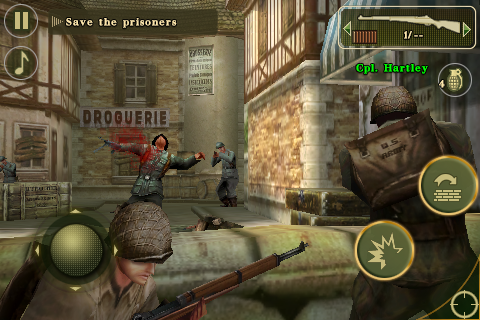 Next up for the unstoppable Gameloft is a sequel to last year's smash-hit, Brothers in Arms: Hour of Heroes. Just as we thought, the game does away with its predecessor's third-person perspective, opting instead for up close and personal, first-person view of the WW2 set action.

Apparently the game will feature a lengthy single-player campaign as well as wi-fi multiplayer options. And judging by these screenshots, in addition to gory close quarters combat, you'll get to take to the skies for some dogfights and also behind the wheel of jeeps, tanks and other vehicles.
Weapons will include a Thompson, sub machine gun, iron bar (sweet!), minigun, bazooka, flame thrower, and grenades. While the globetrotting action takes in the Pacific, North Africa, Italy, Normandy, Germany, and Ardennes.