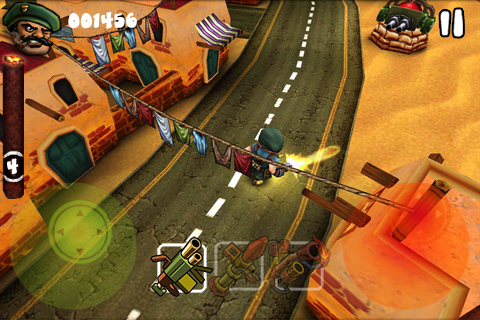 The dual stick shooter is a gaming sub-genre most definately on fire at the moment, and from cult classic Minigore to the superb survival horror thrills of Alive 4-Ever, there's no shortage of top down blasters to choose from on the Appstore.
Soon entering this fiercely contended fray is a tough talkin', big-gun totin' mercenary for hire by the name of, er, Bob.

From the looks of things Angry Mob Games' latest effort looks set to deliver explosive action aplenty. The game will pit you against a host of colorfully monikered badguys, such as Sam Butchfeller (a chainsaw-wielding nutjob), Rocket Rupert (rocket launcher for an arm), Pyro Billy (the name says it all really), and more. The setting seems Middle Eastern, with gun fights taking place in deserts, canyons, crumbling shanty towns etc, while weaponry includes a machine gun, bazooka and flame-thrower.
There's more than mere mindless violence on offer though, as the the game also has a storyline, multiple difficulty levels and an online scoreboard. Bob's obviously gunning for top spot, so expect the title to take no prisoners when it hits the Appstore early next year. Don't know about you, but I'm digging this title's mixture of bright cartoony graphics and frenetic warfare already. Check out the brand new gameplay trailer below and keep your eyes peeled for more news!